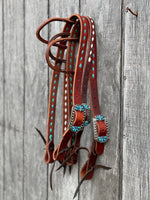 Buck stitch headstalls!
Classic, functional and classy! These are a best seller!
Some of our Favorites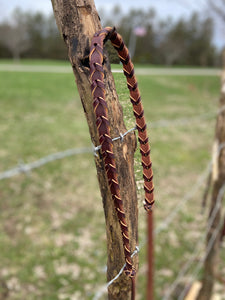 Leather Laced Barrel Reins
These reins are soft and supple. My personal favorite and what I run my horses in!
These come in 5/8" thick or 3/4" thick for those that like a thicker rein!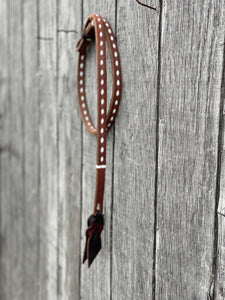 Leather Over & Under
Soft, supple & made to fit your needs. Thinner, thicker, shorter or longer!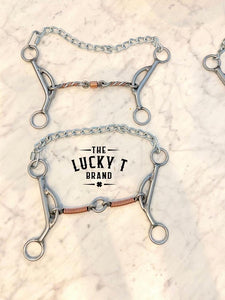 Kathy James
I ordered headstalls and reins. From now on this is my only place i will get reins and working headstalls from. Fast shipping, super nice to deal with. Top notch.

Shannon Alvis
Received items that I won from a random draw. Got them in the mail quickly and oh my gosh are they amazing!!! The leather is already supple and so well made!! Will definitely buy from this company in the future.

Jessica Vigil
Ordered reins and a bridle from Danielle and it's probably the fastest I've ever received a product from anywhere and such great quality. You have a life time customer!

Erica L
Recommend everything! Their training of horses & riders, super facility, Chris' farrier work, Silver Lining Herbs, leather products (love the quick change bridles), DIO liniment & equipride supplements! Chris & Danielle are very knowledgeable & provide invaluable thoughtful advice & solutions. They're both super kind & helpful & it's a privilege to do business with them😊

Holly M
Danielle and Chris are fantastic to deal with. their training program put a solid foundation on my 3 year old as well as worked with my problem horse backing off the trailer. Through both training horses time at Lucky T, Danielle and Chris kept me up to date on each horses progress. As well as after my horses left they both checked in to see how the horses are doing. They also got me hooked on equipride! after my horse had her first foal she had a problem loosing that stubborn "baby" weight, with the addition of equipride to her feeding regimen she was able to loose that extra weight, produce a healthy shiny coat as well as overall amazing health.

Krystal B
Join our team & become an Affiliate!
What, how & why?
Join our team by signing up to be an affiliate. What is that? As a member of our team you can earn commission based on sales you send our way! How....? Well, you can join by submitting an application! You will get a unique code just for you that you can share! Why.....? I'm glad you asked, we appreciate you so much! So much that we wanted to create a way to reward our awesome customers for sharing our small business!